The 4 Ingredients Required To Become A Successful Business Analyst
Aug 01, 2022

By James Compton (Director of Professional Development, IIBA)
People often ask me how to become successful as a Business Analyst. It's not a walk in the park, but if you apply yourself the rewards are immense where you get to enjoy the following in abundance:
Variety: The Business Analyst role is so diverse that you're never lacking in something new to do - and as soon as things become a bit stale, you can easily move onto the next challenge
Monetary: It pays well if you have the right skillset, mindset and are dialled into what the market is looking for
Flexibility: You can operate anywhere with the role in an increasingly remote world (but to be honest, all my BA roles before Covid-19 were remote because our stakeholders were dotted around the globe)
But how can you accelerate your march towards this goal?
Whether you're already practising or looking to switch over there are 4 areas that you need to continuously work on. Here they are: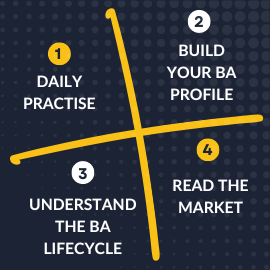 AREA 1: Daily Practise
Just like a gym workout, you need to flex and build analysis muscle so you're always on top form.
Here's some ideas:
Pick something you know you need to work on and practise it every day - read, watch and listen to learn how it's done and then find a way to practise it in your current role, or

ask me for a case study

.
Look at a BA role profile for a specific skill that's in demand and create a plan to learn it
Find something you've done in the past and wished you could have done it better - and redo it
AREA 2: Build Your BA Profile
You need to speak and look like a Business Analyst, exuding expertise and relevant experience. And you need to expand your network. Everything you have done to date has value. You just need to sell it.
Here's some ideas:
Write down 3 times you made some sort of improvement that had an effect on someone else (however small or big)
Reach out to a Business Analyst (maybe someone you don't even know) and ask for their opinion on your profile
Connect with 10 new Business Analysts today on LinkedIn and strike up a conversation, asking what projects they're working on right now and what they enjoy most about what they're doing
AREA 3: Understand The BA Lifecycle
You need to be able to stitch together the end to end responsibilities of the BA so you always have the big picture and maintain 100% clarity on your role at every step in a project.
Here's some ideas:
Write down the process you go through when doing Business Analysis (

or ask me for my Business Analysis Consulting framework

)
List out the responsibilities that you believe a BA has at each step in the project
Write down where you think your responsibilities have become confused and what happened
AREA 4: Read The Market
Keep active with interviews and/or reviewing BA job role profiles because these feed into the above 3 areas - what you need to practise, how to tweak and refine your BA profile, and deeper understanding of the BA lifecycle. This keeps you in tune with the market, and is the number 1 secret to accelerating your career.
Here's some ideas:
Find a BA role advertised now that you feel immediately attracted to and analyse it against 3 areas:
Whether you are practised in the things the role is looking for [AREA 1 - Daily Practise]
Whether your current profile would be adequate in catching the hiring managers attention [AREA 2 - Build Your BA Profile]
Whether the role looks like it's confusing business analysis with other types of roles, such as data / business analytics [AREA 3 - Understand the BA Lifecycle]
Just email me if you need anything and I'll be happy to provide it
Find out more

James Compton is the Director of Professional Development for the IIBA. He is a Business Analyst Consultant and Trainer with over 20 years experience, and is on a mission to raise the profile of Business Analysts as highly valued members of any good project team.